I've been asked a few times about some of my favorite blogging resources, and since blogging is the "in" thing to do, I thought I would share my favorite items!
Now there's two types of bloggers. Ones that want to share info with you, and then ones that want to share info and get paid.
I'm number two.
Why? Because it costs me about 100 dollars a month to run this site in programs alone, and that doesn't include the time I put in.
So yes. I want to get paid. Hence this disclaimer below…
This post contains affiliate links at no extra cost to you! Check out my affiliate disclosure here for more info.
Free Courses
I always like to recommend FREE first, because… well it's Free.
The thing that launched me into blogging was this Free 12 Day Blogging Bootcamp. It really clarified some big questions for me and made it easier for me to get into blogging.
I had tried lots of other things (I had tried to start a blog for like, years and years. I would write out posts and save them on my computer but I was so confused on where to start!)
Hosting
The difference between a site like blogger or wix VS. self hosted, is that with self hosted you OWN the site. 100%.
With blogger or wix or the regular wordpress, you are limited in what you can do and what you can post. I went with self hosting because I want to be in control of exactly what I can post and how I present that information.
To get started with self hosting you can sign up with a 'host'- and you can also do your domain name there.
I recommend two places.
The first, and definitely the easiest for beginners, is Siteground.
Here, you can sign up for 55 dollars- which covers your first year of hosting and your domain name. It's pretty easy! Check out Siteground here.
The other host I recommend is BigScoots. I started with Bluehost, moved to Siteground, and I've ended up here with Bigscoots because of the amount of traffic I have each month.
The other is BigScoots for around 50 a year. The difference is that they aren't as user friendly! But they are friendly, and they have a great program. The great thing is that their prices don't fluctuate.
Getting Traffic
The main thing people always wonder about is "How Do I get Traffic?"
Tailwind- Scheduler
Tailwind is a scheduling app that I use for Pinterest.
Especially because I don't have time with everything else to stay on top of social media!
I went from getting 30% of my traffic from Pinterest to 90% and saw a 500% increase in my traffic. Woah! If you want to try it free for a month, check it out here. It only took me 6 weeks to see the the 500% results, and it's still growing!
Tailwind has helped me grow my following on social media and makes my life easier all at once. It's a win win!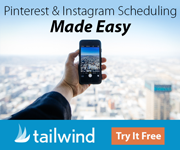 Blogging/Business Course
The first course I recommend to every beginner is the 6 months to make 1000 dollar, Build a Blog Framework.
This is a no fuss, cut the chase, genuine course that I have personally used, personally experienced, and personally recommend-everywhere! I have several sites, and this course was very helpful with getting traffic.
The Main Course that I learned 90% of what I know is called Dare To Conquer. You can sign up for a dollar (not a reoccurring thing, just a dollar)
This is a great resource that not only provides lessons on blogging (so Pinterest, SEO, affiliate marketing, email etc) but they ALSO provide business insights and a master mind group. They have been so helpful with my blogging journey! Check out Dare to Conquer here.
Ebooks
Amazon has so many great ebooks on blogging (and your library might even have a few!) many of these are on Kindle Unlimited too- which is a double bonus!
You can read everything for 10 dollars a month, or sign up for the free month and quickly read everything there!
I really like books by Meera Kothhand and Ana Savuica, both of them are on Kindle Unlimited (as of 2019) and have their own blogs where you can get some info for free!
Even if you buy their books, which are under 5 dollars, the kindle app is free< and a must have for anyone who wants to keep learning.
Audible and Podcasts
I don't know about you, but I'm pretty busy, so I appreciate it when I can listen to audible books or podcasts- especially in the car!
My favorite podcasts are Amy Porterfields "Online Marketing Made Easy" (and she's a firefighter wife rocking it in the business world!), Christy Wright's (She's a Dave Ramsey Employee and has a book!) "Business Boutique" and Kate Ahl's "Simple Pinterest" Podcast.
If you haven't tried audible yet, you should! They even offer a free month to get you started.
Basically
Blogging is something anyone can do! If you have any recommendations for me, or would like to collaborate, reach out! I started this to connect with people, so I would love to hear from you.